Glenholme Florists in Beverley are a highly qualified and professional, award winning floristry team that has been trading for over 60 years. With teaching and examining of other florists being part of our experience, we are at the forefront of floristry design, whilst also having a sound knowledge of traditional design skills.
We are a family-run business that will individually cater for your requirements. Be it for a large corporate event or an informal design for your home, our design team are able to create bespoke designs, to ensure your gift is as individual as you are.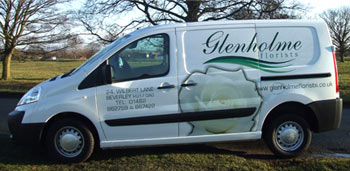 Here at Glenholme Florists we provide a professional, sensitive and confidential service. Whether planning our next celebrity wedding, royal visit or an "I love you" bouquet our unique and stunning designs, combined with the passion and enthusiasm of our team result in the perfect combination.

We hope you enjoy our site and become a regular visitor. When placing an order with us you can feel confident in knowing that not only are we listed in the top 250 Good Florist Guide as compiled by the trade magazine, Florist and Wholesale Buyer, but have also previously received the prestigious national title of Retail Florist of the Year.